TRAIL SYMBOLS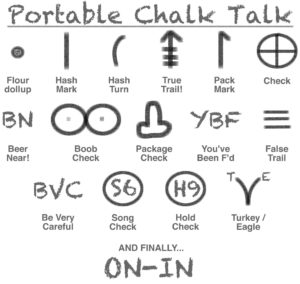 The Trail Symbols above are presented and explained at "Chalk Talk" before each Hash as there may be additional Symbols that need to be explained to the Pack before trail.  The most common marks are the Hash Mark / Flour Dollup which means you are on a trail. Once you see 3 or more Hash Mark, you are "on trail" unless you come to a YBF or false trail mark (in which you would need to go back to the last intersection and check again). If you come to an intersection, you should check to find flour or chalk marks as trail can go off in any one of 369 hash degrees. If you see the "True Trail" Symbol, you are definitely on the right path.
SHIGGY METER
Level 1: In town trail – city streets, maybe some stairs and city squares.
Level 2: Urban, some off-road shouldn't need a dry bag.
Level 3: Some ready made paths & some trail blazing maybe wet.
Level 4: Mostly wooded trail blazing, could be fences, walls, homeless camps, garbage dumps, mud, muck, broken glass, snakes, spiders, little furry animals, swamp & water you could wade through!!!!!
Level 5: Anything goes: briars, stinky mud that could keep your shoes, plenty of water – some possibly over your head, beware of animals including snakes, possibly alligators, over all one that you should have a trail buddy with you.
Posting About Trail
Make sure the Hare raiser has you down on the calendar. A good rule of thumb is to write the event thinking people don't know the area or the kennel. It's best not to assume everyone knows what's going on. Please use the below template when posting. When done, go back to your Hare Raiser and inform them so that it may be added to the web page calendar.
HARE: (your name and any co-hares)
LOCATION: (with a GPS map and details if needed, like behind Publix etc.)
START DATE: (This predates Facebook events and it's now on the FB event page, so up to the hare to add ….)
START TIME: (same)
HASH CASH: $6 for shitty beer; $2 if you bring your own beverage. (**TRAJIC H3 is BYOB). Consider bringing your own cooler if you don't want to share.
Shiggy Meter: (See above)
EXPECTATIONS: approximate trial length, if it's A to A (back to start); A to A-Prime (short walk back to the start); A to B (long walk or shuttle needed to start). Hare is responsible for providing a shuttle.
WHAT TO BRING: Dry bag (if you'll get wet or sweaty), ID, cash, whistles, vessel, virgins, etc…. whatever is needed for your trail.
We hope this guide helps and On On to some super trails!